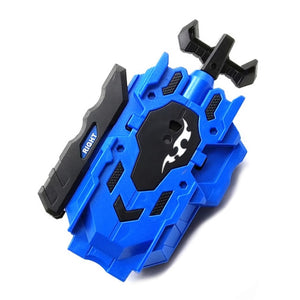 Beyblade Burst String Launcher LR BeyLauncher Ripper
Regular price
$10.95
Sale price
$14.99
Unit price
per
• In Stock
• Free Shipping
FREE 3-Day Shipping On ALL Orders Within The USA (No Minimum Order Requirement!)
We Offer a 60-Day Return Policy - No Questions Asked (if You Are Unhappy With Your Purchase For ANY Reason, You Get Your Money Back!)
Beyblade Burst String Launcher LR BeyLauncher Ripper (Blue). Compatible With ALL Beyblade Burst Beyblades. NOT Compatible With Metal Series Beyblades (this launcher is ONLY compatible with Burst Beyblades.) This is an UNBRANDED Product - it Does NOT Come in Retail Packaging.
This Beyblade Burst LR string launcher is dual spin - it do can both left spin and right spin, and is compatible with left spin and right spin Burst Beyblades. Combine it with our Beyblade Burst launcher grip for even more control, and more precise launches. The B-119 Beyblade Burst BeyLauncher LR Ripper makes it much faster and easier to launch yours Beys quickly, which is especially helpful if you are just playing against yourself, with multiple beys.
Win more battles than ever before with this Burst string ripper - it will surely improve your game, and it will definitely give you an advantage over those that are using a regular pullcord style ripper. This is the blue colored version. Works great with any and all Burst series beys. Excellent for any type of battles, and works best when used with a grip.


Beyblade Burst String Launcher LR
Compatible With ALL Beyblade Burst Beyblades
NOT Compatible With Metal Series Beyblades (Only Compatible With Burst)
Dual Spin - Can Do Left Spin And Right Spin!
Works With Left-Spin And Right-Spin Beyblades
Provides a Super Powerful Rip
Increases The Accuracy of Your Launches
This Burst BeyLauncher LR Can Be Used With a Launcher Grip
Series: Beyblade Burst
Brand: Unbranded
Model: B-119
MPN: UBBSL-B119
Color: Blue / Black
Comes In Non-Retail Packaging (No Box Included)
Brand New
Beyblade Burst Beyblades | Beyblade Burst Surge Beyblades | Metal Fusion Beyblades | L Drago Beyblades | Pegasus Beyblades | Beyblade String Launcher LR | Beyblade Metal Face Bolts | Tomy Beyblades
Goes Great With The Beyblade Burst String Launcher LR:
Brave Valkyrie Beyblade (Brave Valtryek) | Screw Trident Beyblade (Spiral Treptune) | Diablo Nemesis Beyblade | Meteo L Drago Beyblade | Storm Pegasus Beyblade | Flame Libra Beyblade | L Drago Destructor Beyblade | Hades Kerbecs Beyblade | Gold L Drago
---